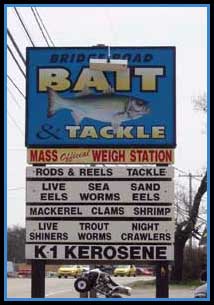 Located just across the bridge from Newburyport, MA. Bridge Road Bait and Tackle is your Massachusetts Official Weigh Station.
WE HAVE THE BEST TASTING BAIT

Soda

Ice

Sun Block

Candy

Combos

Shrimp




Visit us on Face Book

Winter Hours: Monday through Friday 7 AM - 6 PM

Saturday 7 AM -5 PM

Sunday 7 AM - 12:00 PM

Summer Hours begin May 25th

Monday through Friday 6 AM - 8 PM

Saturday 5 AM - 8 PM

Sunday 5 AM - 5 PM
BAIT DIRECTIONS ABOUT BRIDGE ROAD BAIT
Check out our store layout. "If it's made...we'll sell it"
Bridge Road Bait & Tackle
134 Bridge Rd.
Salisbury, MA 01952
(978) 465-3221
© 2006-2023 All rights reserved bridgeroadbait.com
Web Design by KaSondera at: Complete Web Page Design